Winner of 2021 NMOST STEM Equity and Inclusion Award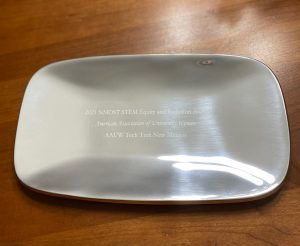 2019 Winner of Non-profit of the Year Award

The 9th annual week-long AAUW Tech Trek NM STEM summer camp will return to an in-person residential format June 19-25, 2022 at New Mexico Tech in Socorro, NM unless ongoing Covid-19 pandemic makes changing to a different format prudent.
We will be taking precautions to make the residential camp as safe as possible. We will require all Tech Trek NM staff and campers to be fully vaccinated (including boosters) for Covid-19, and we will follow all recommended CDC and NM-DOH guidance including masking, social distancing group size, and testing.

In the event that changes in the situation in New Mexico make holding a residential camp inadvisable, we will change to a hybrid format that will have a mix of small in-person day core classes around the state followed by virtual programming for workshops and virtual field trips.
Nominations for 2022 by 7th grade math or science teachers January 5, 2022-January 28, 2022.
February–Nominated girls are invited to submit Tech Trek NM Application. Deadline is February 28, 2022.
March–Meet and Greet meetings for Tech Trek NM 2022 applicants.
April 24–Reunions at Rio Grande Nature Center in Albuquerque
April–Acceptance letters sent to about 48 girls
June 19-25, 2022 Residential Tech Trek NM camp
June 20-24, 2022 In-person Day core classes around the state if needed
June 27-29, 2022 Virtual Tech Trek NM completion if needed
TBA small in-person or virtual Tech Trek NM reunions